This post brought to you by
ShopYourWay Program
. All opinions are 100% mine.
Calling all shopaholics! It's time to put your shopping talents to good use. Now you have the exclusive opportunity to become a personal shopper for your family & friends with ShopYourWay. It's as easy as Shop, Points, Rewards! Get social with shopping by following your favorite brands, meeting fellow shoppers, and sharing personally created online catalogs. The Personal Shopper Program by ShopYourWay allows you to create catalogs filled with your recommended products to share with friends & family. When they buy, you get rewarded! Ready to share your shopping expertise?
Who:
You, the Savvy, Smart Shopper!
What:
Personal Shopper Program by ShopYourWay
When:
Earn anytime your friends make a qualified purchase!
Where:
Sears, Kmart, Land's End, & more!
Why:
Because you love to shop & share items at great prices!
Five simple steps to help you make money by helping friends shop:
Check your email & follow the 'start earning link"
"Accept Invitation" & fill out your basic profile information
Invite friends & family using Facebook, Twitter, Yahoo mail and/or Gmail accounts.
Shop & create catalogs, featuring items that you buy or want to buy, to share.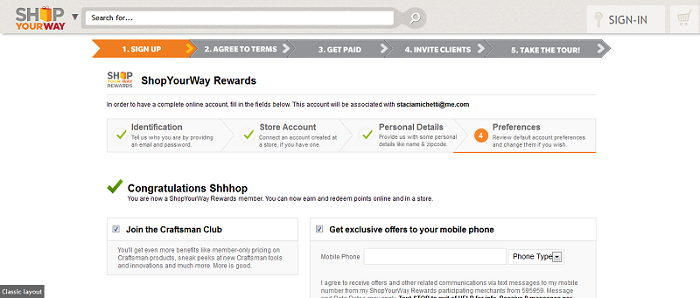 Earn, earn, earn...it's time to be rewarded for those savvy shopping skills! When your network of friends & family make a purchase using their ShopYourWay Rewards number you automatically earn 1% of the qualifying amount. When you reach $20, get a check (once a month) to fuel your shopping habits! Just imagine the "shopportunities"! From $10-$1000,
join ShhhopSecret
in expanding earning and shopping potentials with social networks!
Earn 10 points for every $1 you spend on qualifying purchases

Earn and redeem points online AND in stores at Land's End, Sears, Kmart, the great indoors and mygofer.com

Earn your way to VIP status to receive more exclusive offers

Earn badges

Pssst! Don't forget to look for bonus rewards! Double the first $10 of your commission if you earn $10+ in the first 90 days after signing up!
Request an Invite to ShopYourWay